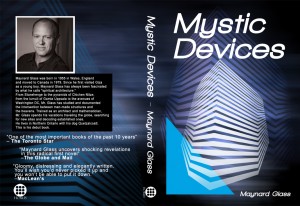 Several quotes from the press on "Mystic Devices":
"One of the most important books of the past 10 years" – The Toronto Star
"Maynard Glass uncovers shocking revelations in this radical first novel" –The Globe and Mail
"Gloomy, distressing and elegantly written. You'll wish you'd never picked it up and you won't be able to put it down."
–MacLean's
A brief summary of "Mystic Devices":
In this explosive account of secret societies and on-going cover-ups, Maynard Glass reveals the most unlikely culprits in some of the most atrocious wrongdoings in 20th century history. A compilation of unwritten and unreleased research, 'Mystic Devices, examines how bodies as obscure as the Church of the Rosicrucians influence the society that we live in. In addition to discussing underground networks and conspiracy theories, he's likely to raise all sorts of other suspicious questions you always wanted the answer to.